Offa 7 (Male) King of the Mercians, 757-796
m/l viii
Notes: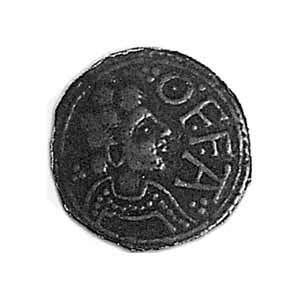 Offa, king of the Mercians (757 ? 96), son of Thingfrith the son of Eanwulf, was first cousin to
S. Kelly, ODNB; BEASE, 340 ? 1; F. M. Stenton, ?The supremacy of the Mercian kings?, Preparatory to ?Anglo-Saxon England?: being the collected papers of Frank Merry Stenton, ed. D. M. Stenton (1970), 48?66; P. Wormald, 'The Age of Offa and Alcuin', in The Anglo-Saxons ed. J. Campbell (1982), pp 101 ? 28; J. Haslam, ?Market and fortress in England in the reign of Offa?, World Archaeology 19 (1987), 76 ? 93; D. Hill & M. Worthington (ed.), Ęthelbald and Offa: two eighth-century kings of Mercia.
Factoid List